Design Thinking Breakfast with Shawhin Roudbari
Free
10.21.2022 | 9:30 am
-
11:00 am
Join us Friday, October 21st, as we host a virtual Design Thinking Breakfast with an assistant professor in Environmental Design at the University of Colorado Boulder, Shawhin Roudbari!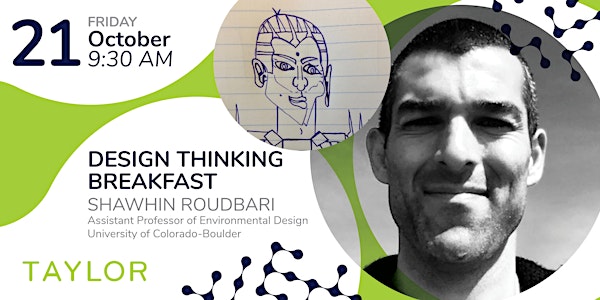 Design Thinking Breakfast is a monthly series to meet new folks and practice using design, design thinking, and other designerly approaches to create social impact. 
Roudbari identifies ways designers organize to address social problems and human rights abuses by bridging sociological studies of social movements and race with architectural theory. His research, which the National Science Foundation and community impact grants support, contributes to theories/practices of contentious politics and employs ethnographic and speculative design methods. 
Plus, he is a founding member of the DissentXDesign research collective, which has published work in leading sociological, architectural, and interdisciplinary journals.
Come with an open heart and mind and prepare to learn and share with others in the local, regional, and international Design Thinking community.